Survivors of Ethiopia's two-year conflict demand justice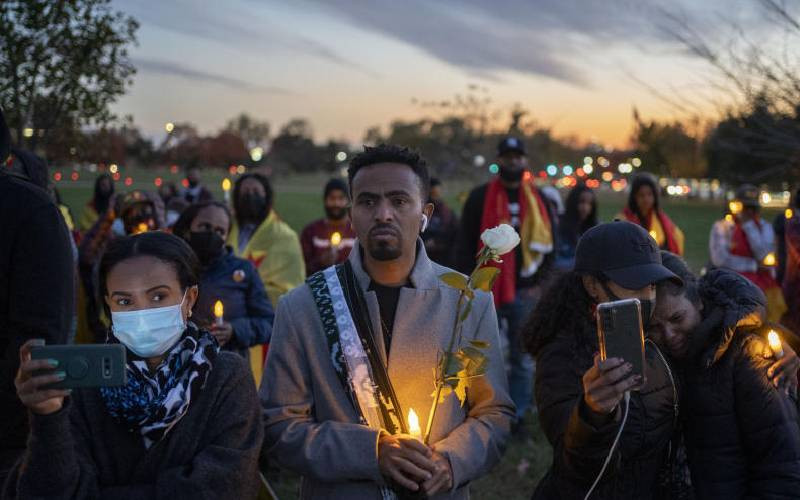 Nearly two years ago, Habtom (name changed) lost four members of his family in a 24-hour massacre in Axum, a town in Ethiopia's northern Tigray region.
Historically famous for its ancient obelisks and religious monument, it is now synonymous with bloodshed after hundreds died when Eritrean soldiers went on a rampage from November 28-29, 2020, shooting unarmed civilians in the streets . Soldiers also went house to house, killing men and boys and stealing food and valuables.
Habtom is among hundreds of Ethiopians mourning the loss of loved ones due to the cruelty of Eritrean troops who carried out several killings as the conflict, which began on November 3, 2020, rages on. All conflict-affected regions – Tigray, Afar and Amhara – have become scenes of unspeakable crimes, including a shocking number of rapes and sexual violence, perpetrated by all parties to the conflict.
Women's bodies have been transformed into battlefields. Letay (name changed), a 20-year-old woman who was gang-raped in western Tigray by the Amhara militia said, "They raped me one after another. I don't know if they realized I was pregnant. I don't know if they realized I was a person.
Women from the Amhara region were also raped by Tigrayan forces controlling the town of Nifas Mewcha in mid-August 2021. Fourteen survivors told Amnesty International that they were gang-raped.
The Ethiopian government has imposed an information and communications blackout, cutting off internet access throughout the Tigray region. Despite this, information about the atrocities continues to find its way to the outside world.
Some reports are written at great risk by courageous individuals who continue to document violations against the civilian population; but some atrocities are documented by the perpetrators themselves.
For example, in Mahbere Dego, a town near Aksum, soldiers of the Ethiopian National Defense Forces filmed themselves shooting and killing civilians. The gruesome video then went viral.
Despite the growing death toll and evidence of continuing grave violations by all parties to the conflict, an effective response from the international community, in particular African leaders and the African Union, is sorely lacking. This is largely because of the international community's insistence on "African solutions to African problems".
For African leaders and the African Union, this means jealously guarding a skewed view of sovereignty, even if it has so far meant blocking justice for victims and survivors of the northern conflict. 'Ethiopia.
This was made clear in a vote on October 7 in a resolution to renew the mandate of the International Commission of Human Rights Experts on Ethiopia (ICHREE), which was established by the Council of United Nations Human Rights Council in 2021. All African Member States, except Malawi, voted against renewing the mandate of ICHREE.
Victims and survivors who look to the African Union Peace and Security Council (AUPSC) for hope have so far been disappointed by this body, which has a mandate to prevent, manage and resolve conflict in Africa.
While the signing of the final cessation of hostilities agreement between the Ethiopian government and the Tigray People's Liberation Front (TPLF) in northern Ethiopia is a step in the right direction, it should have been accompanied by 'a clear, measurable and transparent commitment, including unhindered access for human rights fact-finding mechanisms such as the Council-mandated International Commission of Human Rights Experts on Ethiopia United Nations Human Rights Council to ensure justice and accountability for victims and survivors of atrocities committed during Ethiopia's two-year conflict.
Amnesty has repeatedly documented untold and widespread abuses committed by all parties to the conflict, and these cannot be desired. Yet the agreement fails to offer a clear roadmap on how to ensure accountability for war crimes and crimes against humanity, and overlooks endemic impunity in the country, which could lead to repetition. violations.
The Ethiopian government must, with immediate effect, facilitate the unimpeded flow of humanitarian aid to Tigray so that thousands of people facing starvation and medical need can get the help they need.
The African Union cannot continue to drag its feet as the conflict in northern Ethiopia creates a worsening humanitarian crisis for millions of people, who face starvation, displacement and violations generalized human rights.
Thousands of survivors, like Letay and Habtom, still seek justice and redress, which can only be achieved through independent and credible investigations into the atrocities they and their loved ones have suffered. Their calls for justice and accountability must not go unheeded by the international community's hollow and self-serving refrain of "African solutions to African problems".