New book examines America's experience with prosperity and progressive justice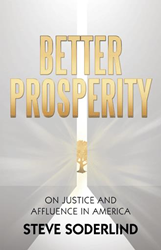 APPLE VALLEY, Minnesota (PRWEB)
September 16, 2022
While assessing the important issues of today, Steve Soderlind reflects on several lingering questions. Does prosperity thrive better with minimal, timid government? Can a new social norm, more devoted to justice and less to unfettered freedom, lead to a viable political consensus? Could the blossoming of new thought bring America back to the table of respectful compromise? Soderlind wanted to provide a relatively balanced view of justice and prosperity in light of these important issues and it is for this reason that he wrote "Better Prosperity: On Justice and Affluence in America" (published by Archway Publishing).
This timely and thoughtful volume follows the American experience with particular attention to justice and prosperity. His far-reaching investigation begins with historical notes and culminates in reflections on the chaos and confusion of the 21st century. Lies, fabrications and simplistic thinking now complicate and confuse the nation – to the despair of millions. With this in mind, this essay imagines the frontiers of justice, based on truth and intelligence that could bring about a viable consensus and a brighter era of prosperity. Referring to relevant insights from economics, sociology, psychology and social choice, the question is whether justice and prosperity could come together in a virtuous circle. Soderlind is cautiously optimistic, noting the barriers and obstacles that could threaten such flourishing.
"The 21st century has seen the nation increasingly polarized over job losses, abortion, immigration and race. Millions of Americans have faced epidemics of addiction, obesity, violence and infectious COVID-19. And, as if that were not enough, several long-term threats have arisen: rising seas, destructive fires and unprecedented storms. America has become a breeding ground for social tensions and "People are deeply concerned about America's future, often desperate and confused by the difficulties at hand. This book is readable and thoughtful as it addresses the major issues of our time," says Soderlind.
When asked what he wanted readers to take away from the book, Soderlind replied, "By way of introduction, this book surveys a wide territory, spotting big features and encouraging further investigation. It clearly calls for a new political consensus more inclined to justice that preserves the Constitution and its aspiration to form a perfect Union. I hope readers enjoy the portrait, questions, and prompts as they investigate further. For more book details, please visit https://www.archwaypublishing.com/en/bookstore/bookdetails/840925-better-prosperity
"Better Prosperity: On Justice and Wealth in America"

By Steve Soderlind

Hardcover | 5.5 x 8.5 inches | 272 pages | ISBN 9781665727341

Soft cover | 5.5 x 8.5 inches | 272 pages | ISBN 9781665727358

E-book | 272 pages | ISBN 9781665727365

Available on Amazon and Barnes & Noble
About the Author

Steve Soderlind is professor emeritus at St. Olaf College, Northfield, Minnesota. During forty years of teaching, he specialized in urban and regional economics, in the history of economic thought and in societal choices. He has also led international travel studies and taught throughout the program in statistics, major works, and history of science. His credentials include a BA in Mathematics and Economics from the University of Minnesota and a Ph.D. in Economics from the University of Massachusetts Amherst.
Simon & Schuster, a company with nearly ninety years of publishing experience, has partnered with Author Solutions, LLC, the world leader in self-publishing, to create Archway Publishing. With unique resources to support books of all kinds, Archway Publishing offers a specialized approach to help every author reach their desired audience. For more information, visit archwaypublishing.com or call 844-669-3957.
Share the article on social networks or by e-mail: