It's over – the FOGO trial is coming to an end Rockhampton Regional Council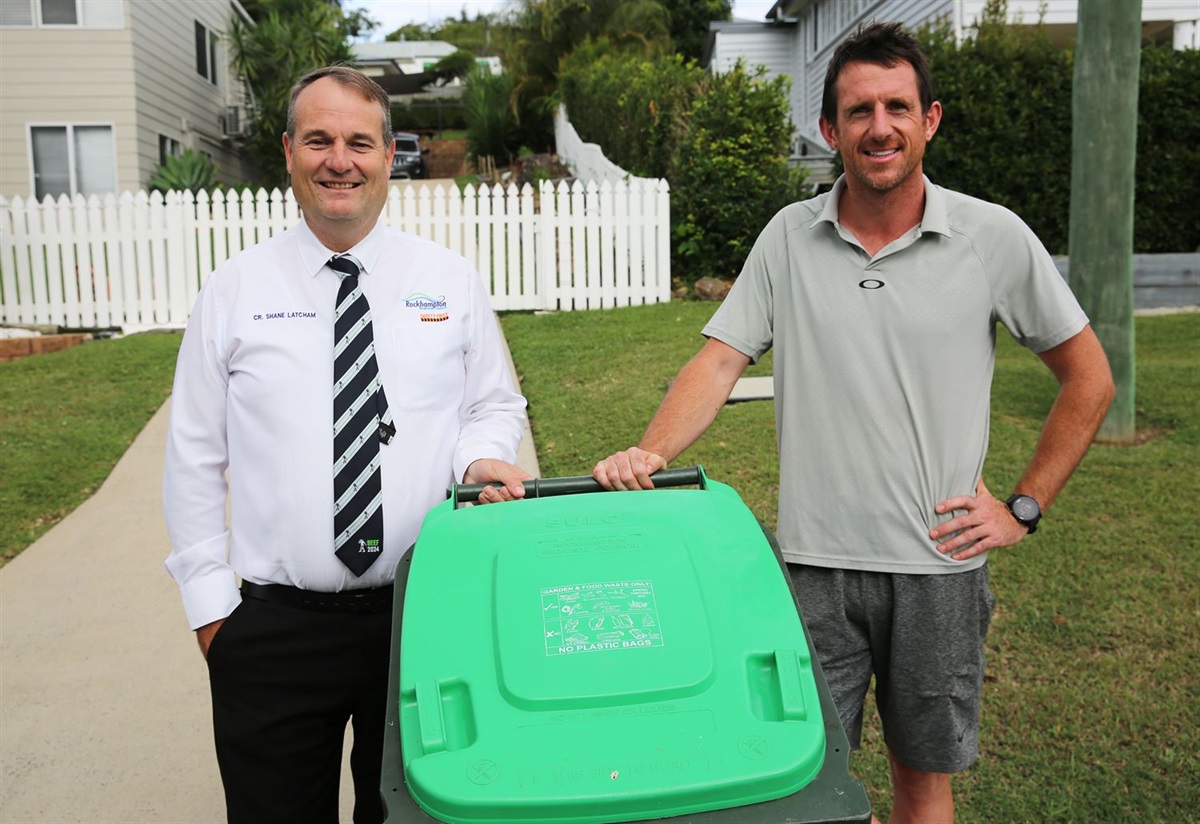 Posted on October 13, 2022
Rockhampton Regional Council has officially marked the end of the Food and Garden Organics (FOGO) trial period, but the service is expected to continue for most participating households.
Waste and recycling adviser Shane Latcham said all trial participants had the option of continuing to receive the service, and most were keen to continue with FOGO.
"We've seen really positive uptake of this offering and we currently have around 600 homes continuing to receive the FOGO service," Cr Latcham said.
"The communities in the test areas have really done a fantastic job adapting to this new service and we wanted to thank them for their commitment.
"Those who have embraced the change will be a great example to the wider community when we roll out the service across the region in 2024.
"A business case is currently being prepared to support a community-wide roll-out, but while this work is underway, the Council wanted to invest in the community that has demonstrated a willingness to adapt their waste behavior.
"For the most part, the transition to using the new service has been smooth, and through our regular audits, we've been able to identify where households might need a little extra help.
"We will continue to work with our community of FOGO champions to help them along the way, as we gain valuable insight into the challenges they may still face in the coming year.
"This will help identify where we may need to focus our efforts when it comes to helping the wider community adapt their waste behaviors when FOGO finally arrives."
Southside resident and FOGO champion Ronan Foolkes said he was grateful to be part of the trial and looked forward to the service being rolled out across the region.
"It's something that my wife and I have supported from the start," Foolkes said.
"It's been a very easy transition for us and the sooner the service is available to the whole community, the better."
Councilor Latcham said diverting FOGO from landfill is a crucial step towards our strategic goal of achieving zero waste and building a circular economy.
"Landfilling organic waste is one of the council's biggest greenhouse gas generators, so it makes sense to divert it from landfill and turn it into compost to improve the soil on local farms.
"I would like to thank all of the FOGO trial households once again – over the past 12 months you have had a tremendous impact on our local environment!"
FOGO Trial Facts:
282 tons of organic waste was diverted from landfill – this is the carbon equivalent of the total annual carbon emissions of 19 households

Households with GO service diverted 41% of their total household waste from landfills

Households benefiting from the FOGO service diverted 67% of their total household waste from landfills
To learn more about FOGO, visit: https://www.rockhamptonregion.qld.gov.au/CouncilServices/Rockhampton-Regional-Waste-and-Recycling/FOGO-and-the-move-to-Zero-Waste-by – 2050
If you participated in the FOGO trial and would like to provide feedback, visit: https://engage.rockhamptonregion.qld.gov.au/fogo-trial-participant-survey-end-of-trial