Biddick and Funnell share Hickstead Derby Trial spoils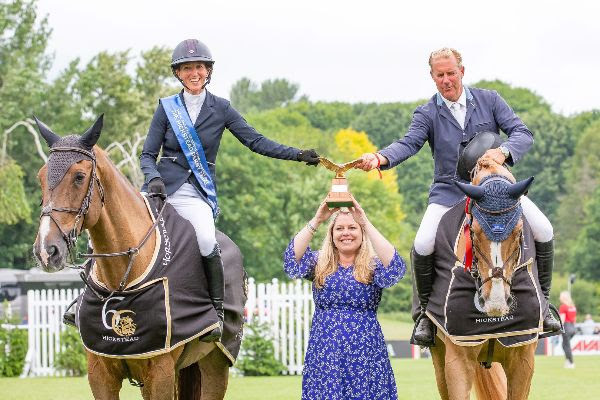 Two of the main contenders for the Al Shira'aa Derby shared victory in today's qualifying class, the Hickstead Derby Trial.
Thirty-three horses showed up for the class, with clear rounds proving very difficult to find. It was until William Funnell came up on Billy Diamo (Cevin Z x Andiamo), drawn 20th to go, that the crowd got to see his first lap without penalty.
Harriet Biddick (née Nuttall) then added a second clear round with the ultra-regular campaigner, A Touch Imperious (Touchdown x Cavalier Royale), who is now 18. But while the two riders hoped to win the Al Shira'aa derby on Sunday afternoon, they agreed not to jump against the clock and split the top prize.
If William can win on Sunday, he would set a new record as the only five-time Al Shira'aa Derby winner. Victory would be particularly poignant for the Surrey-based rider, who sadly lost his mother shortly before the show. "My mum was looking forward to coming this week, but sadly she passed away last week. She would have loved to be here, and I hope she will be there with me in spirit on Sunday and help me do that.
12-year-old Billy Diamo will make his Derby debut on Sunday but has proven himself highly capable of jumping the iconic Hickstead fences in today's class. "He's a big honest horse, and today it was good to get some confidence for Sunday. I actually jumped the Derby Trial on him when he was eight years old, when he had the door down but otherwise had a good lap. Then I was on duty with him for the Nations Cup, and I was shortlisted with him for the Olympics last year, so he's a good Grand Prix horse in his own right.
Harriet, meanwhile, is seriously hoping to clinch her first Derby title after finishing runner-up four times with A Touch Imperious. The horse has had time off due to injury for the past few years, while Harriet has also had a spell out of the saddle with the arrival of her baby. But now the pair is back and looking just as good as ever.
"He exceeds my expectations because he was flawless yesterday in the Stoner Jewelers Vase and then he skipped a cracking round today," Harriet said. "I didn't feel like I gave him the fastest lap, and I thought he was very genuine. Hopefully on Sunday I'll get in a little bit better shape! Winning the Derby would mean a lot, but actually , he owes me nothing – as a horse he's accomplished so much more than I could have ever imagined, and I've had an amazing career with him He's 18 now, and as of now, this who will be, will be.
In the Hickstead Derby Two Phase, riders had to jump clear around the first section of the course in order to jump straight into the second timed section. James Whitaker set the tone from the start of the category, achieving a quick clear round on Caloro Ex Z (Candillo 3 x Lord) to cross the finish line in 33.14sec.
Olympic rider Holly Smith was second fastest with Kimba Castello (breeding unknown) in 34.72 seconds, with Irishman David Simpson third on the talented Foudre F (Namelus R x San Patrignano Mister).
"To be honest, I had a plan and I executed it well," said James, who also won the last renewal of this class in 2019. "I won this class twice, and Holly finished second both times – if it happens every year, I don't mind. You always know you're doing well when you beat Holly Smith!