Activists demonstrate for stronger climate justice efforts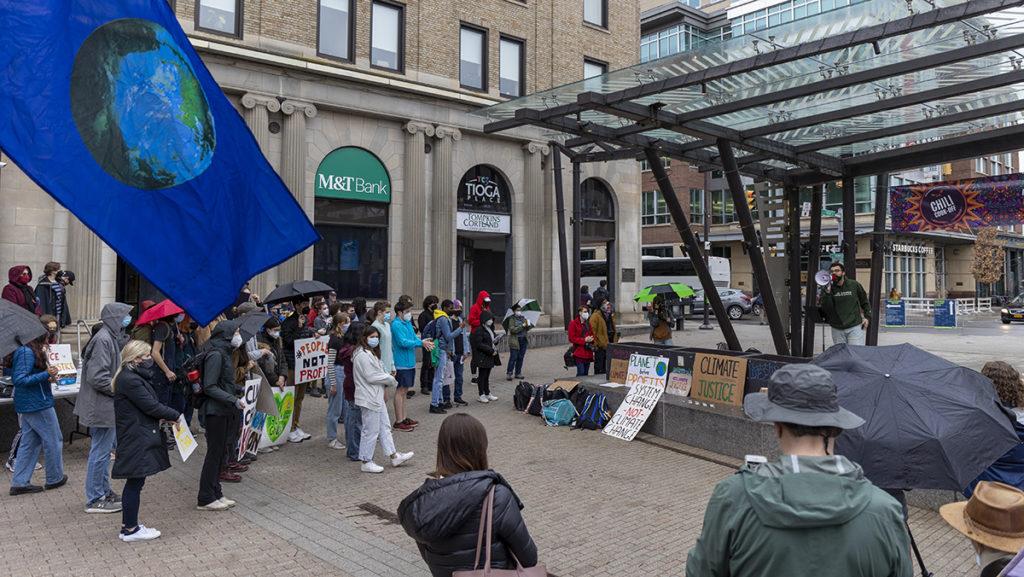 March 25, protesters holding signs reading "Planet before profits" and "Change the system, not climate change!" filled the Bernie Milton pavilion in support of climate justice.
Their demands are part of a movement to strengthen Ithaca's Green New Deal through climate justice efforts, which would address Ithaca's socio-economic inequalities while reducing the city's carbon emissions. However, the protest was also a local part return of the Global Youth Climate Strike, after the COVID-19 pandemic put the movement on hold. The protest was organized by the Ithaca Sunrise Movement (ISM), the local chapter of the youth movement that aims to halt the effects of climate change while creating jobs in the process. ISM has also collaborated with the Ithaca Chapter of the Democratic Socialists of America (IDSA), an American socialist political organization that advocates for a democratic economy.
The protest was part of the climate justice movement, which aims to address the disproportionate effects of climate change on communities that have historically been subjugated. Climate reports have revealed that poor people and communities of color will be hardest hit by severe weather events and sea level rise induced by climate change.
Jane Glaubman, former assistant professor at Ithaca College and Iprofessor of English at Cornell University, said that depending on identity, climate justice can mean one thing to one person and can mean something completely different to another person.
"It means all kinds of different things to different people at different levels," Glaubman said. "Locally, we are trying to think about what local campaign we could do that would make a huge difference in making this community a more equitable community.
Jorge DeFendini, a senior at Cornell University and the alderperson for Ward IV Common Council, spoke at the event. DeFendini said the protest was meant to push for climate policy that reduces both carbon emissions and socioeconomic inequality in Tompkins County. Despite being a ideologically progressive city, the US Census Bureau found that Ithaca has the worst inequality from any New York City.
"A lot of people in the [Ithaca] establishment – and that includes liberals and progressives alike – likes to think that [being progressive] just means they take care of all their p and q's," DeFendini said. "They might make statements or a number of things to signal virtue, when in reality, their action does not correspond to this. You can see it by the Green New Deal that was passed. It's only very recently that we've started to add some bite to it.
DeFendini said that the climate policy of the wealthier countries must take into account that the Global South is one of the regions that will be hardest hit by climate destruction.
"Personally, I'm Puerto Rican, my parents are from Puerto Rico," DeFendini said. "It's just a perfect example of people in the Global South who are on the front lines of climate change. …Even here in Ithaca and in the United States, we have an added responsibility and the power to effect change.
Andrew Curtis, a Cornell graduate student and IDSA member, set up a table at the protest with fliers about IDSA's ongoing political campaigns. One of them is FreeCat, a campaign to make the TCAT bus free for everyone, expand TCAT accessibility and reduce carbon emissions. The FreeCat campaign vision statement states that 30-40% of carbon emissions come from private vehicles, and having a public transport system reduce carbon emissions.
"At its core, public transit is something we need to be more comfortable with and embrace wholeheartedly because it's simply the most efficient way to get people around," Curtis said. . "It's the greenest way to do it."
Joaquin Lira, a teacher's aide at Ithaca High School, of native Arizona ancestry, spoke at the protest. Lira said it's important to be aware that the issues facing climate activists are often recurring. Lira cited former New York Governor Mario Cuomo's attempted struggle in the 1990ss for store nuclear waste in youNew York State.
"We always have to be vigilant because sometimes the old fights that were fought years ago by other generations all of a sudden find a way back," Lira said. "About 30 years ago, we fought a big battle over the radioactive waste Governor Mario Cuomo tried to bring [to Tompkins County]. We fought it, the whole county. … Now there's a lot of talk about taking this nuclear waste and moving it across county or state lines, which is ridiculous.
Glaubman said she thinks a lot of Ithaca's upper class people with Ddemocratic policies often contribute to fueling inequalities in the city. In a city that votes massively Ddemocrat, top 20% of its households earn 60.1% of all income, while the poorest 20% of households in Ithaca earn only 1.0% of income.
"Many people [from Ithaca] see themselves as having left-leaning politics," Glaubman said. "[However,] they own houses that go up in value, and they see it as a victimless thing, but we have people living in real poverty here. … Those of us who are just ordinary people need to come together and stand up for a climate solution that will actually help us.